Bike Workshop
Here we take care of bikes and customers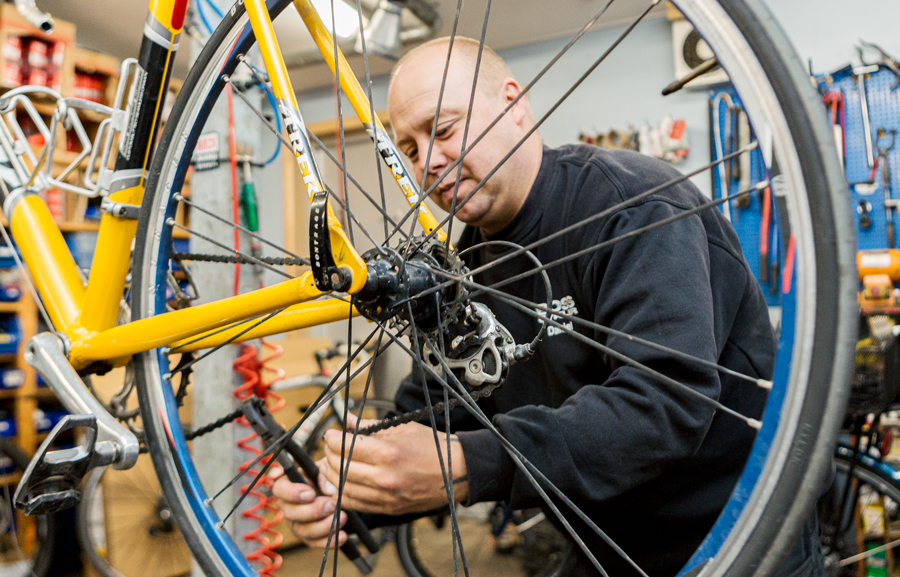 Boss Cykler ensures a well-oiled and safe bike.
In the workshop you will find professionally trained staff,

that takes ensures a
well-oiled and safe bike.

Let's keep your bike in good condition.
Professionally trained staff
Whether you're buying a new or used Boss Bikes bike, our mechanics will make sure it's ready and safe. After we have had your bike for a few months, we offer a free inspection where we tighten the cables and lubricate the chain. All according to the regulations so that you are safe on the go.


Service and maintenance in safe hands
In the workshop we have four professionally trained mechanics. They offer service inspections, security checks, preparation, cleaning and ongoing maintenance. A well-maintained bike is easier to get to and safer in traffic.


All kinds of repairs at an agreed time and price
If you have an accident or a punctured tire, our workshop can prepare the bike for new efforts. From repairs / replacements of the hose to major repairs and replacements, we can handle the entire process. And if it's a major repair, you'll get a quote first.
No matter what you ride every day
Do you have a commuter bike, a city bike? Or maybe a mountain bike or racing bike that needs to be tuned to the feel of the fingertips? Let us advise you on service and repairs. We are also certified for electric bicycles - read more about electric bikes.


Better good service than quick replacement
Cycling is environmentally friendly transport and ideal for exercise. At Boss Bikes, we are happy to help keep a good bike running.
We service your bike
Inspection of bicycle
Chain tightening
Certified electric bike service
Installation of accessories
Pick-up and delivery service
Advice and guidance